Escape to Madagascar
Madagascar Magic
Why would we choose Madagascar as a destination?
Flashback to the year of 1998. Life took over and was hectic. We needed to get away from the rat race and could manage a two-week break. We wanted to go somewhere unreachable. Cell phones had just made their appearance but weren't used everywhere. Our sons by now were lovable but rebellious teenagers.
We'd been here and there in South Africa since our trip to the UK and Europe but had never gone as a family out of the country. We brainstormed, trying to find a suitable destination. Somewhere with a beach and sea, was the general consensus. Mauritius? No, we felt it too commercialised for our taste, besides hubby and I had been there, done that, got the t-shirt, as great as it was. We were spoilt for choice with ideas but so many suggestions turned out to be well above our budget.
An overseas holiday for four people can really stretch the budget to snapping point. Eventually after much deliberation we decided on Madagascar. It wasn't a regular destination for tourists at that stage. Its international relationships were poor, with recurrent political issues and impeachments. The economy had collapsed, and the infrastructure was meagre.
Why would we choose Madagascar? Here's why:

Some months before this, I found an advertisement in a newspaper: Electrician required on Indian ocean island 6-month contract.... Tempting as it was, hubby said, if he wasn't married, with children and a lucrative career, he would apply for the job. Immediately someone else came to mind who was perfect for the job. He cut out the advertisement and put it on the desk of one of his electricians, but never mentioned he put it there.
After enquiring throughout the office, the electrician enquired if he was the one who put the ad on his desk which hubby confirmed. The distraught technician was shocked. He was convinced that he was no longer welcome in the office and that his work wasn't up to standard. He wanted to know why Paul wanted to get rid of him and had he done something wrong. Paul's reply, ''Most certainly not, but if I was young and in your shoes, I would jump at the chance and apply for the job.'' Duane's eyes lit up. He was most certainly interested and went for the interview.
The company offering the job was impressed by him and employed him there and then. Duane was a bit concerned, though. If he took the job, and it didn't work out, he would have lost his permanent job. Paul said no problem, he would guarantee employment upon return. He could take the job, on one condition: we could visit him on this island. It was a deal.
The only drawback was when we decided it was time to travel, the hotel wasn't complete, so we couldn't stay there. To build a hotel on an island with very little infrastructure in the country is not an easy task. Tourism in Madagascar was only just taking off and we weren't sure what type of accommodation we would find elsewhere.
Duane suggested we charter a yacht through friends that he met in Madagascar. That way we could move around and not see only one area of Madagascar. We weren't sure if this was viable and if our budget was sufficient, but after much calculation we felt it was a pretty good deal. We could see what typical Malagasy lifestyle was like, swim and fish to our hearts content, and just sloth while moving from island to island. Furthermore, we could learn to dive at the same time. Even our sons didn't rebel about our choice.
We met up with Elize, the skipper's wife and tour organiser who was at a travel show in Johannesburg at the time. She sealed the decision for us by selling all the good points of the trip and showing us some photographs of other people's experiences. Once again, we thought this was THE trip of a lifetime for us.
Preparation began. We had to buy wetsuits, fins, masks & snorkels and some fishing lures. The rest was available on board. Packing clothes wasn't a problem. Here's my list:
Packing list
Essentials to pack for a two week trip on board a catamaran
Swim suit
Sarong
Cap or Hat
Sunscreen
Malaria prophylaxis
Yip, that's it!
Oh, ok, just a few more items:
Towel
Mask, snorkel, fins
Wetsuit
Warm top for the cooler evenings
But really…you don't need much when you're spending time on a boat at a tropical destination and you're continuously cooling off by jumping off the edge into warm water.
We would be living in our swim suits most of the time, with a T-shirt or two, some shorts and a sarong that could double up as a skirt, if necessary (for me, that is, not for the men in my life!). Armed with rucksacks and 2 dive bags with our gear in, we headed for the airport. The lack of attire appealed to Paul, as he was happiest in a swim suit, exploring the sea. The best part was that nobody could contact us, as this was in the early days of cell phones, and there weren't any yet in Madagascar. This seemed like a win for all situation.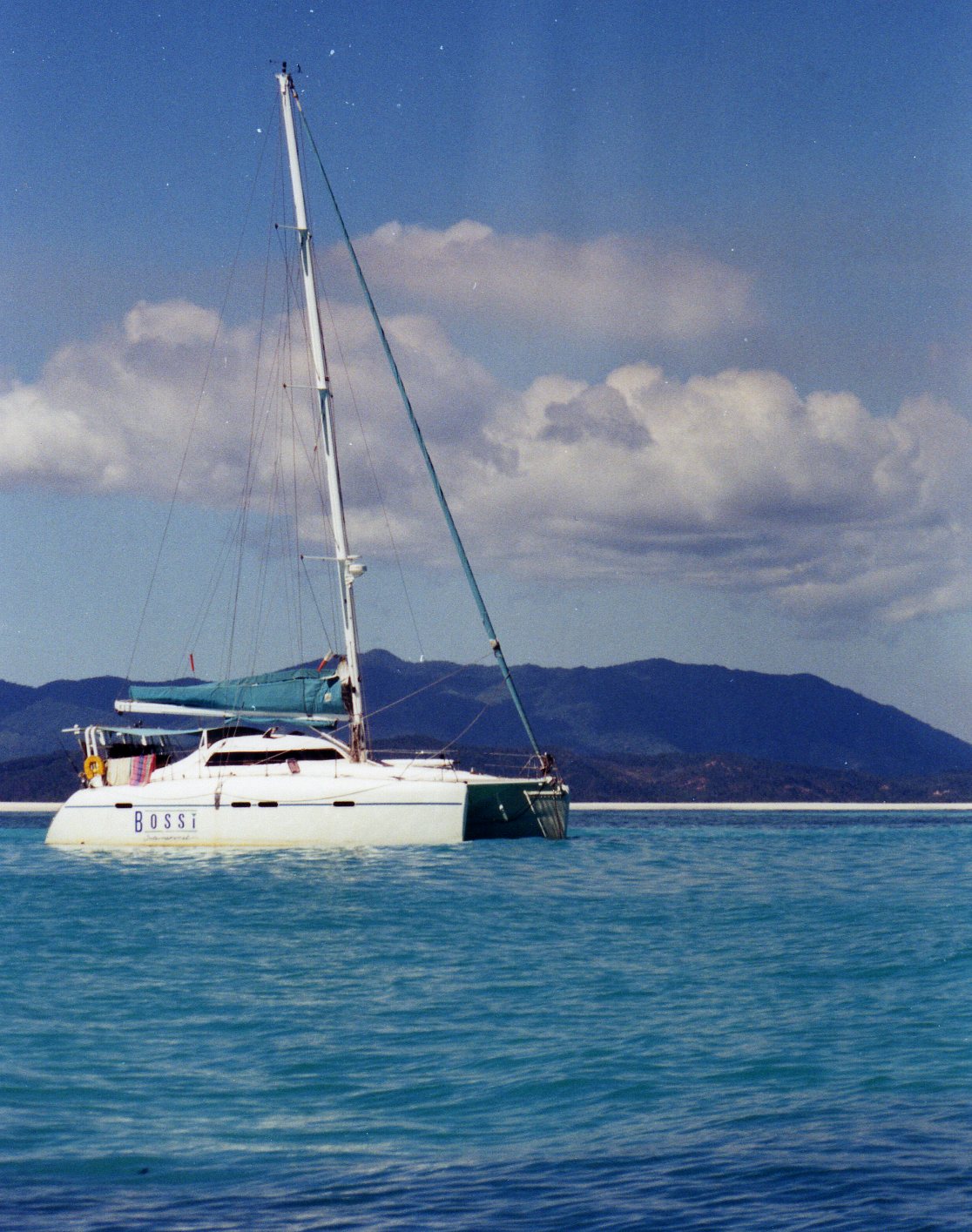 We had managed to see a Dean cat – at least the outer part of it - on the Langebaan lagoon in the Cape in South Africa a few months earlier, and we could all see what our home for ten days would be like. It didn't look like a little tub where we'd be tripping over each other and wrestling for space. It heightened our excitement well before it was time to go.
Let the journey begin…in next week's blog!
Yacht Bossi Nosy Be, Madagascar