How to choose one ultimate thing to do at Victoria Falls
Victoria Falls - Zimbabwe - Africa
How to spend your credit card rewards when they mount up
A quick long weekend getaway.
We'd stashed our rewards from our credit card (eBucks) and in 2010 we thought it time to blow the whole lot so surfed the internet and explored the eBucks Travel Site. We were thrilled to find out we could take a trip to Zimbabwe, buy a special two-night package to the Victoria Falls, flights, two breakfasts, one dinner and a sundowner cruise included. Woo hoo! Now we just had to find one ultimate thing to do at Victoria Falls.
Greedy as usual, we decided to extend it for an extra night. At that stage the entire trip cost R5162.00 or in eBucks terms eB 110 025.30, including booking fees. The difference we paid in was R179.03. We thought it was a bargain.
In today's terms, it was an archaic method of booking. Although we had internet already, we had to print out the booking form, fill it in, sign it, then fax it back to the booking agent. A long-winded process.
The flight to Victoria Falls
The duration of the flight was about 1 hour and 50 minutes. For the first time in my life I was upgraded from economy class to business class. The disappointment was that it was such a short flight.
Victoria Falls airport is small and we waited for what seemed like eternity to get our luggage which was carried out by hand – no conveyor belts. Then we waited for ages in the bus that was the transfer to our hotel. On route we had to stop at a few other hotels to drop off some passengers.
The town itself is quite small with limited shops and restaurants. At that stage there was also limited provisions.
Pictures in grid are of aZambezi hotel gardens and last two are taken from the air.
Our Hotel
For our accommodation we chose the aZambezi River Lodge, purely because it was on the Zambezi river. The other hotels or lodges were either too expensive or their location was not to our taste.
It had the rustic charm of a bygone era, but the rooms were adequate and comfortable, if somewhat outdated. The position was superb though, being on the Zambezi river.
I couldn't get over the humidity in the area. Usually it is drier inland but as a result of the falls, the humidity stays high.
The food was plentiful, but the poverty of Zimbabwe was evident with the lack of choice. It didn't bother us though. We even had free entertainment. African traditional dancers sang and pounded their drums and even got some of the hotel guests to dance with them.
What is the one ultimate thing you would want to do at Victoria Falls?
Eat Mopani worms

Stroke a crocodile

Take a shower under the falls

Take a sundowner cruise on the mighty Zambezi

Get rid of some adrenalin

Become a billionaire – albeit a disgruntled one

Go for a helicopter flip over the falls
How do you choose what to do at Victoria Falls?
It's not easy to choose one ultimate thing to do, because there is plenty to keep you active, but certain factors might just play a role such as budget, time restraint or just plain stupidity to do them. A list of must-do things to choose from. I know which one I would advise against but that's your prerogative!
1. Eat Mopani worms.
As part of snacks at dinner time you could savour a few dried mopani worms. We had to try one. We gingerly crunched our way through one half, then gulped down the other. I found them quite rich though and could only stomach one.
2. Stroke a crocodile:
You don't physically have to stroke one. In fact, I would distinctly advise against it. They lie on the banks of the Zambezi river and would be close enough for you to do so, if you wish to have a limb snapped off, or alternatively be dragged underwater, rolled repeatedly then drowned.
The crocodile is between us in the background with us keeping our distance, because they can move extremely fast if they want to. This was a small one, but where there are small ones, there have to be bigger ones too, don't you think?
3. Take a shower under the falls:
It's ok, you don't have to take your soap and shampoo. Furthermore, you don't actually have to be underneath the falls to have a shower. We walked through the park that allows you a close-up view of the falls from the Zimbabwean side. We were there at the end of the wet season and they were flowing at full capacity. We were soaked and thankfully had raincoats. Tip: it's a great idea to have some waterproof covering for your camera equipment! Another Tip: Wear shoes that aren't slippery. The paths are treacherous and there are some steep steps.
It's like standing under a thundershower.
4. Take a sundowner cruise on the mighty Zambezi.
This was part of our package, but even if it wasn't, we would have arranged to include it in our visit. It was a leisurely time spent on the water, sipping our beverages, watching the African sun set. We caught a glimpse of the mist of the falls, but couldn't get too close to them, as the boats were only allowed up to a certain point, for fear of the engines not coping and being unable to turn around against the strong current. Can you imagine the boat going over the edge with flailing passengers? Not a pretty sight!
Bottom row, left photo, what looks like cloud is actually the mist from the Victoria Falls.
5. Get rid of some pent-up adrenalin.
We kerbed our thill-seeking craves for a more sedate time, but if you're one of those people that can't resist getting rid of some adrenalin, there's plenty of activities to choose from. Just search the internet under Adventurous things to do in Victoria Falls. There are a few to choose from.
6. Become a billionaire – albeit a disgruntled one:
We always seem to have an entourage of people following you. We were escorted over the bridge linking Zimbabwe to Zambia by entrepreneurs, trying to sell us things. We weren't allowed to cross into Zambia, but we obtained passes to allow us to walk on the bridge.
One of the items that these walking vendors tried to sell us was old Zimbabwean currency. We were fascinated to see these notes of extremely high denominations. Naturally we bought a few. That's right, we became billionaires, but in Zimbabwean terms. Oh, wait, I lie, we became trillionaires! We were a tad disappointed to know that the notes were null and void, or more than likely fake, therefore worth nothing.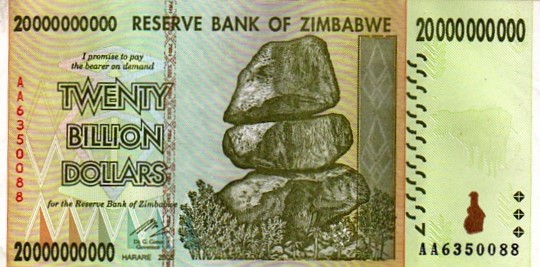 7. Go for a helicopter flip over the falls:
The town of Victoria Falls is in Zimbabwe. On the other side of the falls is Zambia. The Zambezi River cascades over a cliff and gouges through gorges between these two countries. Only when you've flown over the falls and gorges by plane or helicopter can you truly marvel at the magnificence of this great body of water that has chiselled canyons along its route.
The helicopter flight was at extra cost to us, but we felt it was worth every cent and made the trip truly special. We used Shearwater Adventures.
Victoria Falls Hotel
We couldn't visit Victoria Falls without taking a peak at Zimbabwe's grandest, oldest colonial style hotel. She has the best view of the falls… from a distance, but still not of the entire falls. They are simply too big and wide. Because of the landscape, impossible to see entirely in one go (at least on the Zimbabwean side)…except from the air. She is indeed the Grand Old Lady of Victoria Falls and one can easily imagine what it would have been like staying there in the early 1900's.
The Trolley in the garden was used to transport guests from the hotel to the bridge and boathouse in 1920.
We're glad we chose to extend our getaway for an extra night, because a two-night stay would only have allowed us one full day, and we would have been strapped for time to do all we wanted to do.
You know you're in Africa when you have wild life roaming around the streets. We didn't actually see an elephant in the road, although some people have. There is distinct evidence of elephant droppings including other wild animals that roam around freely, so it's best to be alert when walking the streets.
Flight back to O.R. Tambo
Unfortunately when we returned from Zimbabwe and flew in to OR Tambo International airport we'd found that the baggage handlers had a good peek at our luggage. There was nothing of value, so no items were missing. They didn't even take the Zimbabwean dollars, that were hidden amongst our clothes, so they obviously knew they were absolutely worthless.
Please click on the smaller photos in their grids to enlarge them in a lightbox.