Delirious romps and overindulgence of inspirational gardens
2006 RHS Chelsea Flower Show
London - United Kingdom
A Photo blog of our experiences walking around the show gardens
includes useful tips and information
This is my 40th blog since the commencement of my website. What better way to commemorate it with something visually appealing, at least to those that love flowers and gardens. Proceed with drum roll:
I present you with a photo blog of the 2006 RHS Chelsea Flower Show. An account of our delirious romps and overindulgence of inspirational gardens.
Yes, I know it's way back in the past, sorry to disappoint that it's not a recent exhibit; but if you ever plan to visit Chelsea Flower Show, you may as well plan in advance.
In 2006 we travelled to London and spent a few weeks there. Fortunately it coincided with the RHS Flower show. I was thrilled to be able to buy tickets and submerse myself in the gardens.
Beautiful combination of plants and flowers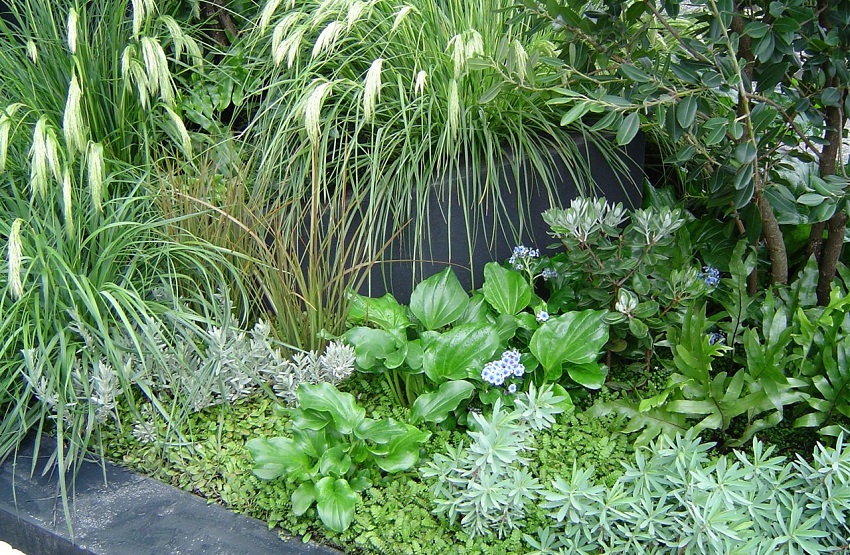 Love the use of textured foliage
The Chelsea flower show is on Every gardeners bucket list
It was always a huge but distant dream to visit the Chelsea Flower show. For those of you who haven't heard of it, CFS is held every year in the last week of May in the grounds of the Royal Chelsea Hospital and is organised by the Royal Horticultural Society.
I've had some involvement in building show gardens in South Africa but nowhere near the calibre of Chelsea. I've had first-hand experience in the back-breaking work that goes into constructing them. I know at least some of the planning and designing, cultivating and growing that goes into the garden long before the date that the first bit of soil is dumped on the stands at Chelsea.
One cannot believe the gardens are temporary. They are built from scratch in less than three weeks. After the show they are ripped to shreds within about five days. Well, not literally ripped, because the plants are usually sold to the public and some of the products or even gardens are distributed to communities. The preparation takes far longer of course with many of the plants grown over many years or even decades, specifically for the show.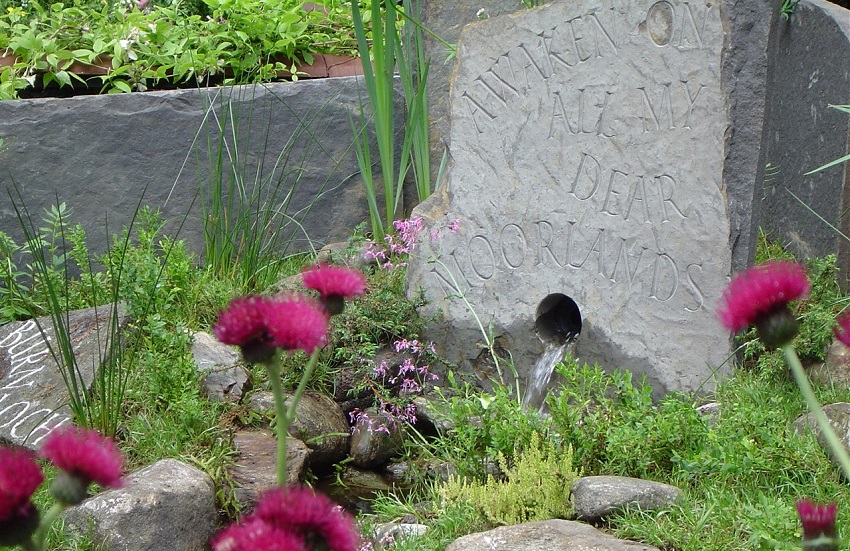 Interesting water feature
Reminiscent of a hobbit hole
Chelsea has been described in so many ways. Here are a few of them:
World's most Prestigious flower show
Tapestry of Britain
Cutting edge garden design
World renowned gardens
Innovative garden designs
Avant-garde show gardens
They certainly are all of the above. What would I call it? This is a gorgeous 'English Rose', but it showcases like a flamboyant fire lily. Visiting the flower show is a sensual experience from all angles. You won't be disappointed.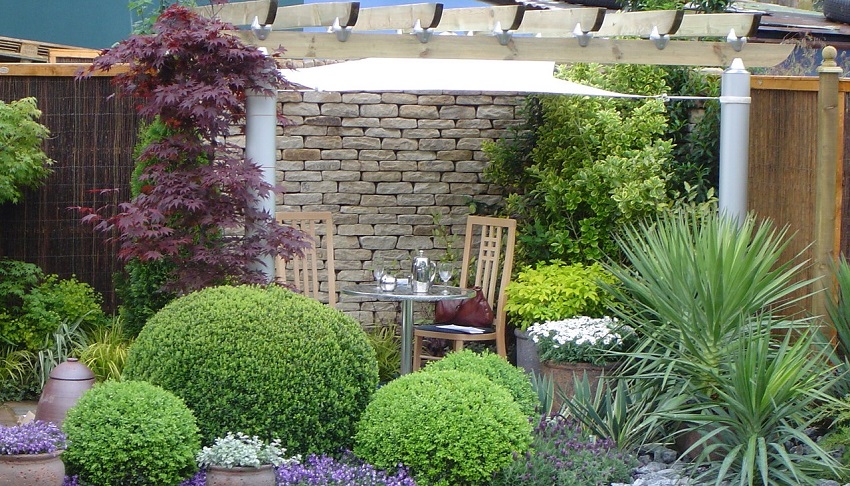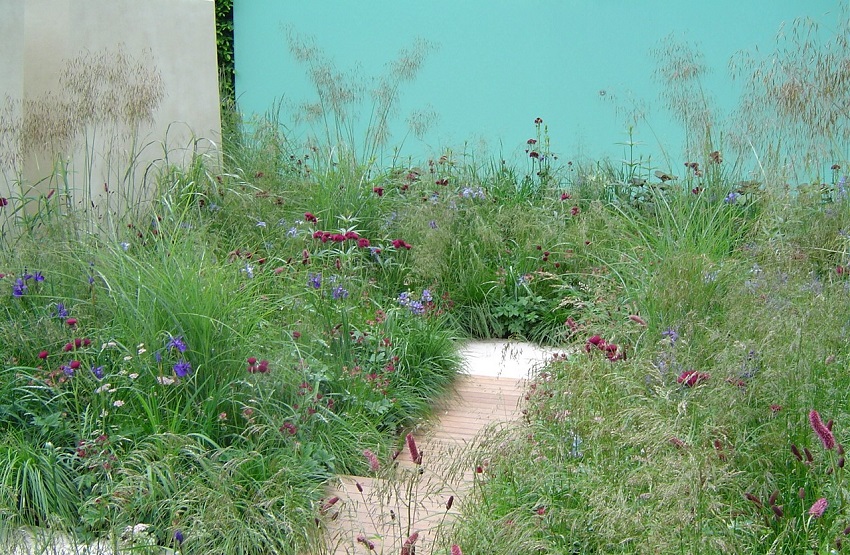 I won't bore you with many tips, but here are a few:
Buy tickets on-line well ahead of time from RHS.
Comfy shoes are essential. You will walk for hours. Trust me on this one!
Bring with suitable clothing for all weather conditions. We had sun and rain and it was cool. Thankfully the rain didn't last long.
Be sure to have a camera, video camera and note book or phone. I guarantee you will want to take pictures and probably make some notes for inspiration. You may even find your green fingers, even if you never had any.
Study the map of the grounds of Chelsea before you walk around. That way you can plan and limit unnecessary walking. Even so, you'll still walk far. The map should be available on the day you visit Chelsea.
Pack your patience. Queues are long because the grounds are packed to the brim with people. There are a few food and drink stalls but be prepared to wait. You are allowed to bring a picnic – that's if you want to carry it around with you all day long.
Take antihistamines if you suffer from allergies, especially pollen. You're sure to suffer here. If you're not sure, bring a supply just in case.
Let's get down to the purpose of this blog, to showcase some of the gardens through my lens. Here's hoping you will feast your eyes on these photographs. Please note these photos weren't taken for the purpose of a blog but purely for my own enjoyment. They aren't the best, but you should still be able to appreciate them.
Inspirational and Stylish Gardens
These gardens are certainly state of the art gardens. There's something that appeals to everyone's taste in gardening. I think it is difficult for anyone to walk out of there not feeling inspired at all.
Click on smaller images below to enlarge them
Delightful and unusual Garden ornaments
I adore the garden ornaments and sculptures. I'd love to have some in my own garden.
Getting knocked out by Floral Exhibits and Fruit displays
If you haven't had enough of looking at the gardens outside, you can take a walk through the Great Pavilion where there are floral exhibits from around the world. Probably the most flowers you will ever see in one spot. You won't only see flowers though. There are magnificent fruit and vegetable exhibits and the most juicy displays of strawberries. I guarantee those were the biggest strawberries I have ever seen.
Orchid swoon!
Although there are so many varied species of flowers there has to be a special mention about orchids. There were thousands! Maybe I'm exaggerating, but there were vast numbers of various shapes, sizes & colours. Right down to the tiniest most exquisite orchids.
Rubbing shoulders with TV celebrities
Some behind the scenes photos of TV Celebrities & film crew.
Hob nobbing with Garden Show TV Celebrities
Behind the scenes while filming
Flowers from and for Africa, especially South Africa
Even South Africa has an annual exhibit done by The South African National Biodiversity Institute (SANBI). I know I'm biased but South Africa has exquisite diverse flora.
Whilst the RHS Chelsea Flower Show is only one of many floral and garden exhibitions, it remains worth seeing. Have you been to any other shows, equally inspiring?