What has Munich to offer in autumn besides Oktoberfest?
During Oktoberfest in September and October, Munich is bursting at the seams with tourists wanting to celebrate the popular notorious festival. But not everyone wants to spend all day, every day, at Wiesn drinking beer or going on white-knuckle carnival rides. We found a few things that Munich has to offer in autumn besides Oktoberfest.
Unplanned low budget visit
After having spent a few weeks in Munich in December we weren't expecting to be back so soon. Hubby had an opportunity to witness tests in a laboratory in a town in Bavaria and of course having a son living in Munich, we couldn't let the opportunity pass us by to visit him.
When we told our son we were coming to visit but the dates weren't flexible, there was a moment's hesitation. He said, as much as he would love to have us to stay, he would be away on a business trip elsewhere in Europe and he wouldn't be able to change his plans. This wouldn't affect Paul, because he would be busy for a few days anyway, but it would affect me.
We pondered whether it would be worth it for me to fly over a few days later but decided we might as well fly together and I could have a couple of extra days in Munich. I just needed the key to get into our son's apartment where we would stay.
We flew direct to Munich from Johannesburg with SAA. The service and food were good but I must admit I struggled to sleep on the plane.
Airport antics
At Munich airport after collecting our luggage I had to purchase a ticket for the S-Bahn. Paul and I would then go our separate ways for a few days.
The ticket machine is fairly easy to use and is supposed to accept credit cards. Of course it didn't accept mine or my husbands – why, I don't know. Fortunately we had some Euros in cash and could pay.
OMG!
They ask for the exact amount at the Fahrkarten machine, but who enters a foreign country with small change? I sheepishly slipped in my 20 Euro note (the amount for the ticket was 11.60 Euro). The machine spewed out the ticket and change. I felt like an elated gambler at the slot machine of a casino as the coins jingled into the small change tray.
As if the coins bulging in my purse wasn't enough, we thought it a great idea to withdraw sufficient cash at the airport to last us for a good few days as many places in Munich prefer cash. Bank fees add up when withdrawing small amounts every few days.
Hubby stuck his card into the auto teller, punched in his PIN and an amount. It was rejected. I did the same with my card but the machine didn't want to give me money either.
Close to panic, because we have had issues with blocked cards in foreign countries before, and because our cards didn't work at the Fahrkarten machine, we were on the brink of phoning our bank to give them a royal bashing, because we had arranged with them that we would be using our credit cards overseas.
While we were concentrating on withdrawing money I'd received a text message that I'd ignored. I presumed it was the usual 'Vodacom welcomes you to Germany' message. As I glanced at my phone before phoning the bank I saw a text from said company. It notified me that I had tried to withdraw over my daily limit. They had of course declined the transaction. I slid my card into the machine again and punched in a smaller amount. My card worked! Paul did the same and his worked as well. Relief!
Ready to face the S-Bahn
From Munich's Franz-Josef-Strauß Airport, both the S1 line going west and S8 line going east will take you to the city centre. The trips are approximately 35 minutes and they alternate every 10 minutes.
Paul insisted on depositing me and my luggage onto the train, before he caught a taxi to his destination, although I was sure I would manage.
This was the first time in many years, in my ripe old (or is it middle age?) age that I had to find my way to accommodation on my own. Usually Paul was with me if we had to find our own way to our hotel or guesthouse. Two brains are often better than one in a foreign country. On other occasions we had family or friends collect or meet us.
The plan was to get to Hauptbahnhof, place my luggage in a locker then walk to the company where our son worked and collect his keys from a colleague. I would then head back to collect my luggage and catch a tram to the apartment.
With explicit instructions which made sense to me and which I'd recognized from our previous visit, I was confident that I could find my way. I had no data on my phone, until I arrived at the apartment, where there was a SIM card waiting for me that I could use in Germany, so I downloaded the off-line maps from Google for Munich.
Don't expect everything to be the same as the last time you were there, even if it wasn't that long ago. Things look very different when facades of buildings have been blocked off due to building alterations.
Fortunately I recognised the area and collected the keys, found the right tram and went in the right direction, then made my way to the apartment. When I notified both my son and my husband that I was safely at the apartment I'm sure I could hear a collective sigh of relief that I'd managed to find my way.
Did they think I was going to abdicate and go elsewhere? I must add, in South Africa we don't really have much of a transport system. We drive just about everywhere, even if it is just for two kilometres!
After a couple of days we reunited after a couple of days and spent a relatively low budget, spur of the moment holiday with one of our sons. It was great to chat, laugh and enjoy some sightseeing. I am eternally grateful that I had this opportunity.
Weather in Autumn in Bavaria
We'd been forewarned that we could have all four seasons in one day. It's a rainy period but not quite winter, so we were prepared with a mix of clothing for warm days, wet days and cold days.
What has Munich to offer in autumn besides Oktoberfest?
Naturally we had to see what Oktoberfest was all about, so that was included in our sightseeing. Here are some of the things we did.
Experience Oktoberfest

Take a day trip to Tegernsee

Explore the Deutsches Museum

Take a tour of Schloss Nymphenburg

Visit the Dachau Concentration Camp Memorial Site

Have coffee at Eataly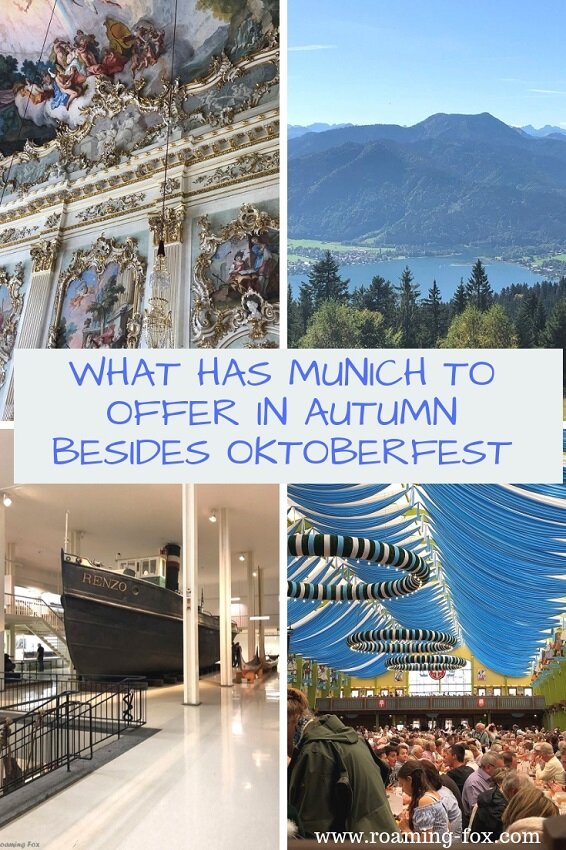 Click on image to pin for later
Oktoberfest
More than six million people from around the world attend the Oktoberfest in Munich every year. It takes place over approximately two weeks from mid or late September to the first Sunday in October. There is a whole lot of drinking going on but it is also a family Volksfest.
The Oktoberfest deserves a blog of its own, so keep your eyes open for one of my future blogs where I will tell you my experience of it.
Day trip to Tegernsee
We chose a day that was warm and sunny. The train trip took about an hour to get to Tegernsee. Apparently there are trains every half hour.
I thought we would have a leisurely day walking around the lake and the town, exploring. Well, bang went that idea! I didn't see much of what I think is a beautiful town. No, our son had other plans. Let's go for a 'hike', he said. It will be fun, he said. It won't be that difficult and the view from Berggasthof Neureuth is worth it.
East of Lake Tegernsee in the Bavarian Alps is a 1,261-metre-high mountain called Neureuth. Well, he nearly killed me! Not sure if that was his intention or if he thought his mother was fitter than she is. Or…maybe… it was revenge for the surprise visit to spoil his beer consumption at Oktoberfest.
As we left the town before we entered the forest we looked back and the view was indeed beautiful but we'd only walked about five minutes. We still had an hour to go. In terms of difficulty, it is not that bad – depending on what you classify as easy. It is not difficult to walk but I would advise a certain level of fitness as it is uphill all the way.
The foot path was slippery in places but with plenty of zig zags to make the climb less steep. It took well over an hour to walk approximately 3.5 km with lots of stops for me to catch my breath because I'm the least fit in our family. Those lungs of mine breathed in a whole lot of Bavarian Alp air.
Most of the walk was through the forest, so we couldn't look back at the lake, but at least there was shade.
Here is the routes by car:

We made it to Berggasthof Neureuth. The view was breath-taking and worth the walk and a great place to have lunch.
I downed an Apfelschorle (German Apple Juice Spritzer) and the guys downed a beer. I had a lovely lunch of Bratensülze mit Röstkartoffeln und Remoulade (Brawn and roast potato) with a Radler (beer shandy). The men had a delicious goulash but that had quite a zing to it, which they didn't really enjoy. Naturally they washed it down with another beer. As compensation we had Apfelstrudel of course but in hindsight I should have had a Kaiserschmarrn (A chopped up pancake made with rum-soaked raisins and served with applesauce or preserves). They looked delicious!
Small Mountain Chapel Tegernsee Alps Neureuth
After lunch we chose another route to walk down. It was approximately the same distance on a wider road but if I thought the previous walk was bad, this was even worse. Not so much on the lungs but the legs and knees! By the time we got to the Bahnhof at Tegernsee my legs felt like they had a will of their own, wanting to do the Charleston Bees Knees Dance. I knew they would be stiff for days!
Steep road between Neureuth and Tegernsee
Click on photos to enlarge
Would I go back and do it again? Of course! But this time I'd like to walk around the lake and find a more leisurely way uphill. I hear it is great to bring your own sleigh in winter to go downhill – I think that could be quite an adrenalin rush. The turns might be quite sharp though!
Deutsches Museum
If you are wanting to visit the Deutsches Museum you will need a lot of time or choose specific areas you want to see.
There are more than thirty exhibitions of science and technology covering an area of 25,000 square metres.
The high-voltage demonstration is one of the most popular events and of course appeals to Paul, considering he is in that industry. It involves experiments simulating lightning strikes and there is an impressive Faraday Cage demonstration.
Here's a video to watch if you're interested but trust me, to see it in person is far more impressive:
The museum is undergoing some changes and updates and some of the exhibitions will re-open in 2021. Even so, you would be able to walk over 9 kilometres to see everything during the modernization.
Schloss Nymphenburg
This Baroque palace was the summer residence of Max Emanuel, a long-awaited heir to the throne who was born in 1662.
This also deserves a blog of its own, as we walked the beautiful gardens of the palace and toured parts of the interior as well as the stables where the Marstallmuseum is (Museum of carriages and sleighs).
Be sure to look out for this blog in the future as well.

Dachau Concentration Camp Memorial Site
In 1933 a prototype concentration camp for political prisoners was set up in Dachau. As you walk through the gates one cannot help but be overcome by the memories of the suffering of the people. It is a sombre site, but it is worth spending some time there.
Once again I have decided to devote a separate blog about this and I hope I will do justice to it as it is necessary to respect the dignity of the people and the site, even though most of them are long gone.
Even writing only these two short paragraphs above conjures the horrendous images that we can only vaguely imagine of that dreadful time.
Eataly near Viktualienmarkt
On a lighter note, it is worth visiting Eataly, an artisan Italian market with restaurants. We had cappuccino and croissants there with a friend. It is worth it, but beware, it can be busy. You can purchase Italian products and apparently they even have an online store.
These are just a few things to see in Munich in autumn. There is a whole lot more, but of course our visit was as usual far too short. Not sure if our son agrees though.
Quick links to Apps for transport
It is a good idea to download these Apps as well as the relevant journeys before you enter Munich.
Follow me on these social media platforms