Voyage down memory lane to our 1992 cruise on the Achille Lauro
Achille Lauro
Durban to Cape Town – South Africa
Let me take you on a voyage down memory lane, way, way back to 1992, almost thirty years ago.
At that time cruising had only been reintroduced in South Africa. They were testing the waters so to speak, to see if it would be worthwhile.
Two of the renowned cruise ships on our seas were the Achille Lauro and the Oceanos. We were given a gift by the company my husband worked for, to cruise from Durban to Cape Town on the Achille Lauro at that time.
The huge attraction is of course to sail to Mozambique, Mauritius, Reunion, Madagascar or the Seychelles. Island destinations were far more appealing than sailing around the Cape of Good Hope, notorious for stormy seas, but beggars can't be choosers, as they say… Besides, I wasn't complaining. Going on a cruise, any cruise, was a lifelong dream; one which I never thought would ever become a reality.
History of the MS Achille Lauro
MS Achille Lauro seemed to have had quite a tragic past. She had collided with her sister ship. She'd been held hostage by terrorists in 1985. There have also been four fires on board, the last when she was cruising from Italy to Durban. One of her engines exploded off the coast of Somalia. That fire, on the 30th November 1994 sent her to her watery grave.
Thank goodness we didn't have Google in those days, because I would have done some research about her and I wonder if I would have set foot on board if I knew about her perils on deck. Probably, because I was over the moon to be going on a cruise!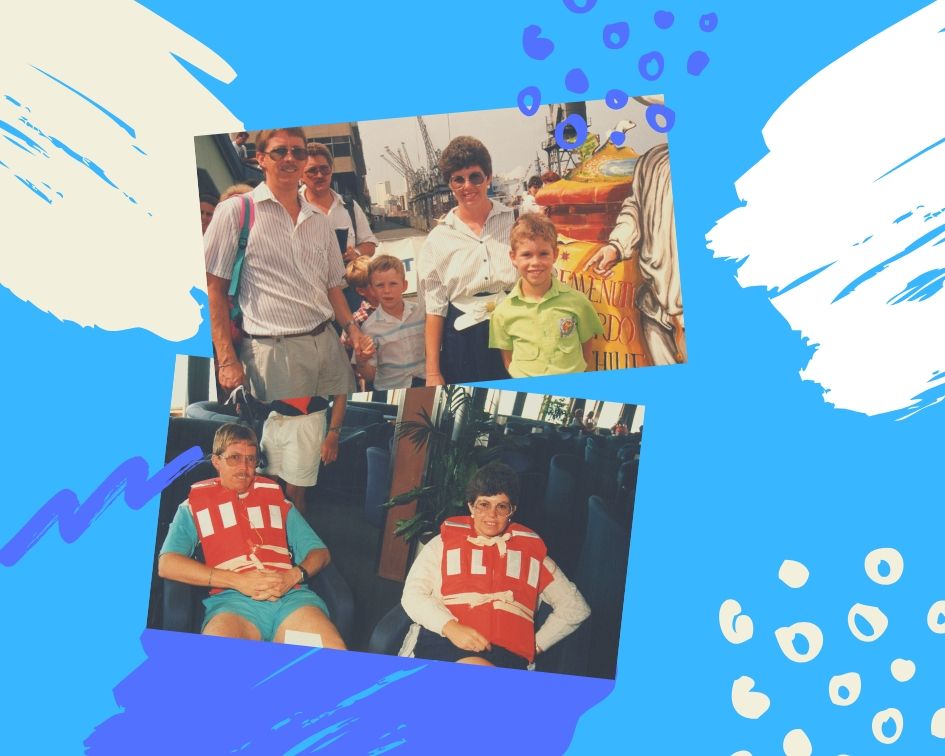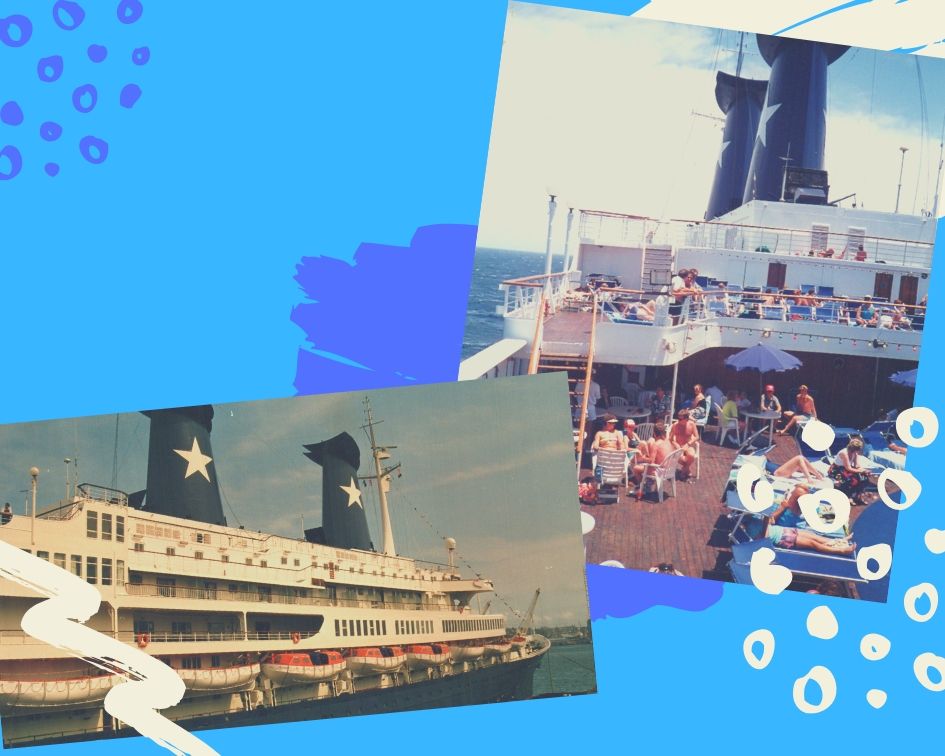 Cruising down the coast of South Africa
The cruise was quite brief. If I recall correctly we spent two nights on board with no stops along the way. We embarked in Durban and sailed down the coast to Cape Town.
As cruise ships go, she wasn't that big, a mere 192 meters but as we arrived at the harbour and saw her tied to the pier while she was berthed in Durban, we felt dwarfed by her size.
We went on board and after going through what seemed like a maze, found our tiny cabin with four bunk beds, a minute port hole and an equally small bathroom. I wanted to unpack quickly before the ship moved because I am prone to seasickness and wanted to be back on deck before leaving the harbour.
Because I am prone to seasickness, I wore a plaster just below one of my ears – one of the ways to combat the queasy feeling in those days. I noticed quite a few other passengers adorned with the same decoration, so I didn't feel alone. It gave me a terribly dry mouth though.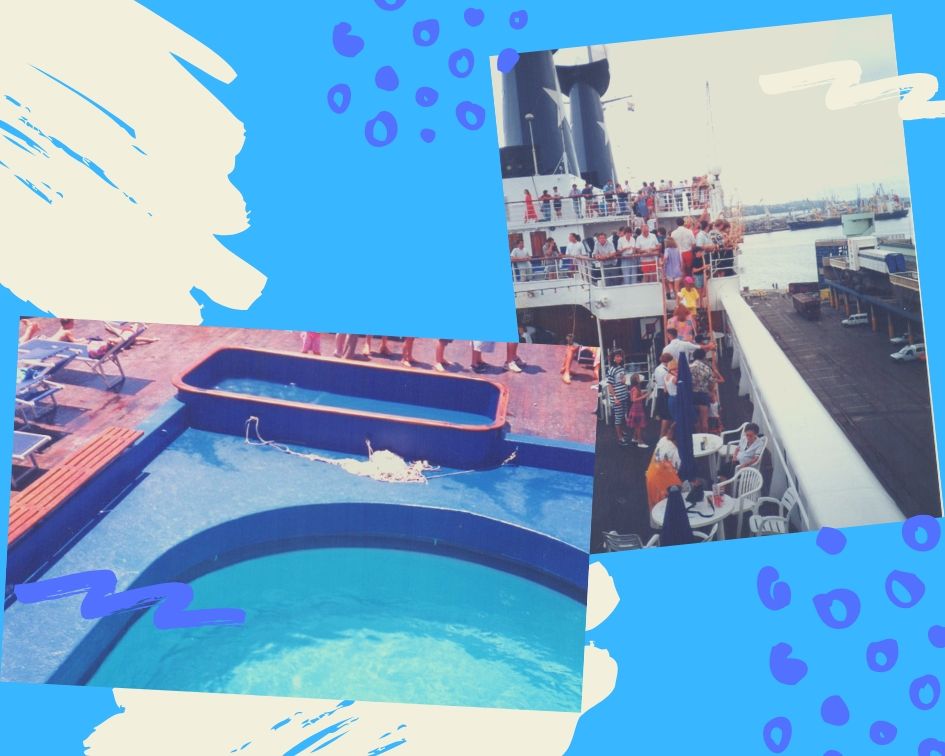 On board
The usual releasing of streamers as we sailed away (do they still do that?) signalled the start of our voyage. There was no sign of the catastrophic history of the Achille Lauro. This was a cruise filled with fun and laughter, singing and dancing, shows and games. What is more, with four meals a day plus plenty of snacks in between, I don't think anyone starved, unless motion sickness prevented you from eating.
We sunned ourselves and joined in on the fun and games on deck. We swam in the pools and found it hilarious to see the water making waves as the ship rolled over the swells. One minute you were in deep water and the next the water level was at your ankles.
Although it was hot outside, you froze inside where the air conditioner was set to arctic temperatures.
I did have the odd vision of our sons going overboard but read them the riot act if they ever went anywhere near a precarious spot. We even showed them how far they would fall.
I'm not sure who had more fun, us or our young sons, who were treated like royalty by just about anyone who walked past them.
They were even allowed to play volleyball with the 'big' guys, a group of young adults. Our two boys clung like monkeys on the outside of a cage-like net that was keeping the ball from hurtling off the ship. Ragamuffin faces looked longingly at the older guys until they took pity on them and let them join the game. I appreciate that they took the time to play with kids more than half their age.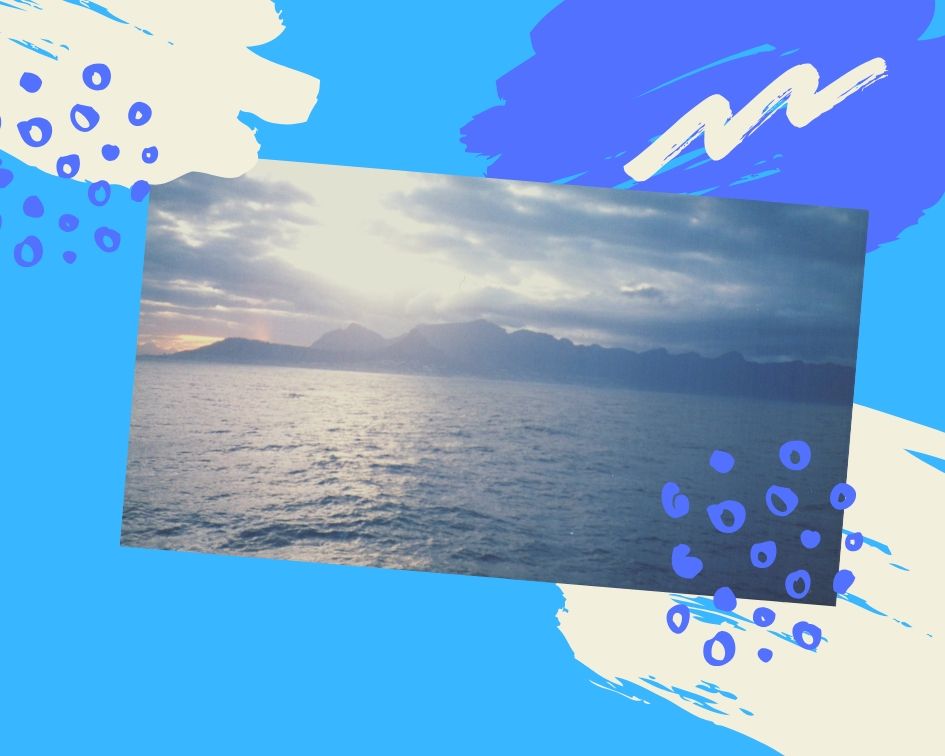 Sailing around Lion's Head
Cape of Good Hope, the Cape of Storms
On our last evening aboard, the Cape of Storms lived up to its name. Although it wasn't that stormy outside, the sea was turbulent. Walking down the passages was like walking on a bucking bronco deck. We zig zagged our way to dinner and the evening's entertainment. The entertainers struggled to stay upright during their performances, but as they say, the show must go on…
Luckily I didn't feel queasy, so those ugly plasters must have helped. Some people weren't so lucky.
When we went to bed that night we slid on our narrow bunks as the ship moved in all six degrees of motion. One minute our toes were touching the edge of the bunk and the next our heads were banging against the other side. I'm very glad none of us landed on the floor.

I can't say that I was relieved to reach Cape Town's quayside, because we were looked after well by the MS Achille Lauro and I was sorry our voyage was over.
Although it was slightly cloudy, I was thrilled with the view as we approached the mother city, because I had always wanted to see Table Mountain from the deck of a ship while sailing into the harbour. I got my wish!
Once back on land it took us a while to get rid of our sea legs. Funny how that feeling stays with you for such a long time.