The Best Bush Camp in the Waterberg
Why Bush Camping in your own tent at Matamba Bush Camp is worthwhile
A discerning, quiet bush camp in the Waterberg biosphere
For those of you who have followed my Instagram, Twitter or Facebook pages, you'll recognise many of the photos in this blog. It's about time I tell you a bit more about them and divulge a little secret.
A few years ago I was searching the internet to find a place for us to celebrate mom-in-law's birthday. I came across a campsite called Matamba Bush Camp in the Waterberg that sounded just right for us, but not for that occasion. Fast forward a few years later. We were looking for a place to camp for a long weekend, and I remembered about this campsite that sounded intriguing. We decided to give it a bash.
Matamba Bush Camp is a peaceful and exclusive retreat in the bushveld, right in the heart of the Waterberg biosphere, just a short drive outside Vaalwater and two to three hours drive from Johannesburg and Pretoria.
A delightful couple, Alan and Sue, have made this place unique and very special. Once you've camped there you'd be hard pressed to find a better place to stay. There are only 2 camps, Tau and Mara. Tau camp has four campsites, set well apart from each other. Mara's camp, further away from Tau on the middle of the farm is a private camp for one group only.
If you enjoy loud music and roaring up and down the roads in your vehicle looking for animals, Matamba is most definitely not the place for you. In fact, you'll be chased away, so be warned. Once at Matamba, you park your vehicle, set up camp and walk around to enjoy the animals and nature. You can get quite close to the animals and it is a delight to meander through the bush and have them watch you inquisitively. It is also an ideal place for children to walk or ride their bicycles, although the sand is soft. It's wild enough without being in danger from the animals and tame enough with comfortable camping.
If you are modest and you are fortunate, you may even object to a curious peeping giraffe sticking his head over the latte fence, while you shower in the shade of a tree. If you'd like to be a little more discreet, you can leave your ablutions till night time when you can shower under the stars. Of course, if you really want, you can use the more private bathroom that does have a roof. All bathrooms have been beautifully designed with great attention given right down to the smallest detail.
Apart from giraffe there is a variety of small game on the farm, such as eland, kudu, zebra and sable, impala and wildebeest. It's an ideal place for a few nights stay or a one night stop over if you're heading further north for a longer overland trip. But beware, if you get seduced by its charm, you may never want to leave. We loved our stay there and have been back many times and have become firm friends with Alan and Sue.
On to other matters, job related.
What does camping have to do with jobs, you ask?
Bear with me. I've decided to add another job title to my CV. What do you do when friends ask you to look after their place for them for two weeks while they travel to a remote part of Botswana? Of course you oblige. After all, what's the problem with looking after a few pets, a house and their property? That's not so difficult, is it?
About that job… At the end of the previous year I joked with Alan and Sue and said that I was looking for work. Immediately they said they had a job for me. My remuneration of course wouldn't be in cash, but could I look after their farm? They were touring the Kalahari for two weeks and their usual farm sitting friend was going with them. Dead keen, with no hesitation, this city slicker said she would, until she realised it wasn't just a suburban house.
There was a bit more responsibility to look after a game farm. I had three dogs and four cats to look after, which wasn't a problem. Besides, it's an enchanting place, so that wouldn't be a hardship. I also had five sable that had to be fed every afternoon. Ok, I could manage that too. But what about the rest of the animals? And of course there were a bunch of campers thrown into the pot too. Furthermore, I'd be on my own, because hubby would only be able to join me for weekends as he couldn't just give up his day job. We decided to invite mum-in-law (Alison) to keep me company. We also invited friends of ours, Leonie and Athol to spend a few nights midway through my stay because we knew they would love Matamba, its birds and its critters. As for the rest of the animals, fortunately they would be looked after by the staff.
We trekked up to the farm, which is about three and a half hours away from our own home. We were briefed about the last few things that I needed to know and then Alan and Sue waved us goodbye. I'm not quite sure if I saw a bit of hesitation as they left. It probably only dawned on them then that they were leaving their precious gem in the hands of someone who didn't have a clue about looking after farms. The only real farm life I had was for a year or so, soon after I had just outgrown my nappies and the odd visit here and there to friend's farms.
In reality, the staff looked after the farm and they did it very well and I actually did very little. Mom and I spent most of our time staring at the animals or birds like ladies of a colonial manor, sipping G&T's. When campers arrived for their stay, I directed them to their sites and told them what they needed to know. I was fortunate that there were no major disasters. Once hubby arrived to spend the weekends with us, he gently but firmly shoved me aside so he could 'take over' and enjoy the farm like I had done throughout the week.
I also shared my bed with a few of the cats and one of the dogs. One of these cats looks like a domestic cat, but he is actually an African wild cat. He was abandoned at birth and was raised by Sue. His instincts are definitely wild, yet once he knows you he rubs up against you, purrs and meows like an ordinary cat, but all on his terms. I grew quite attached to his cuddles. In fact, I enjoyed the attention I was given by all the cats and dogs as well as the rest of the menagerie. In the afternoons we fed the sable, five of them that are grouped together. They get fed during winter, because it keeps them healthy and the grass is not so nutritious anymore. I felt a bit like the Pied Piper when they followed me to their feeding bowls and my sister-in-law even called me Dr Doolittle.
In fact, all the animals at Matamba get looked after very well. As a result, they all thrive and are in good physical shape. I had such fun and it was an unforgettable experience, so thank you, Alan and Sue for giving me this opportunity.
I'm not sure if I can justify my new job title of farm sitter, but I think I might just sneak it in my curriculum vitae. What do you think? Shhh! Don't tell Alan and Sue; they might not give me a glowing testimonial.
Update:
We've returned so many times to Matamba and each time we love it. Walking around the now familiar surroundings, we see something new each time, so you won't be disappointed. I do believe I am a reliable witness and can speak from experience, so you can trust me on that one. If you don't, you can always check out Getaway's article. They voted Mara's camp as one of the top 11 off-the-grid campsites in South Africa.
We've also spent time watching the little critters on the farm. They are often overlooked and can be equally interesting to observe. Be sure to look at the photographs.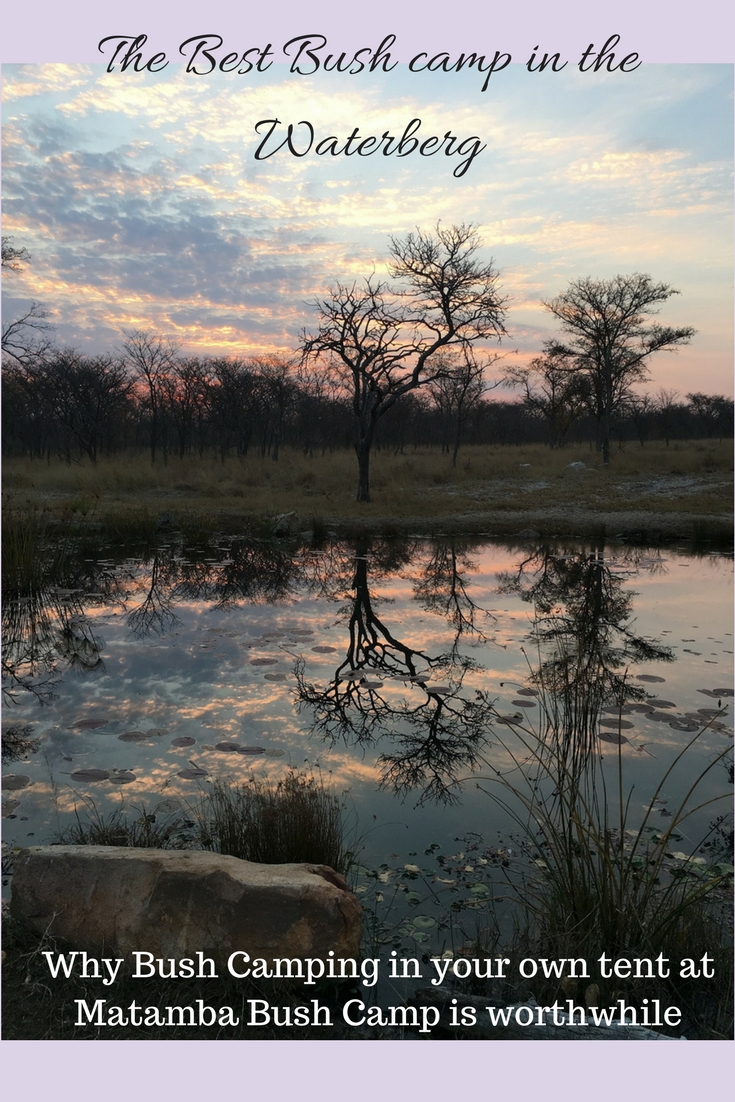 After reading this, you're still not interested in camping? Just around the corner there are some other upmarket lodges where you can stay in style. Read Ella's account about her stay in the Waterberg. That might just appeal to you.